For more information:
David Esparza
President
800.359.4467 (toll free)
707.446.4906 (fax)
desparza@cal-inc.com
Service Links
Communities Served
Vacaville
Fairfield
Sacramento
Richmond
San Francisco
Vallejo
Woodland
Davis
Concord
Walnut Creek
Oakland
Yuba
Yolo
Fremont
Stockton
Modesto
Petaluma
Santa Rosa
Napa
Redding
Red Bluff
Eureka
Berkeley
Chico
Rio Vista
Antioch
Winters
Sebastapol
Novato
San Mateo
Palo Alto
Redwood City
Livermore
San Ramon
Dublin
Tracy
Calistoga
St. Helena
Marysville
Oroville
San Jose
Mountain View
Cupertino
Los Gatos
Sonoma
Solano
Sacramento
Contra Costa
Alameda
Yolo
Mendocino
San Joaquin
Marin
San Mateo
Santa Clara
Stanislaus
El Dorado
Placer
Sutter
Yuba
Butte
Glenn
Lake
Tehama
Shasta
Martinez
Antioch
Rio Vista
Pinole
San Pablo
Alameda
San Leandro
Hayward
Castro Valley
Union City
Milpitas
Sunnyvale
Santa Clara
Santa Cruz
Monterey
Burlingame
Rocklin
Roseville
Folsom
Rancho Cordova
Citrus Heights
Elk Grove
Galt
Lodi
Manteca
Tracy
Danville
Pleasanton
Merced
Fort Bragg
Colusa
Anderson
Red Bluff
Grass Valley
Nevada City
Auburn
Placerville
Paso Robles
Salinas
Lake Tahoe
Truckee
Reno
Carson City
Morgan Hill
Gilroy
Industrial and Commercial Painting and Coatings Services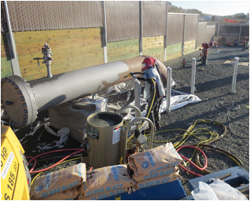 CAL INC is a Diversity Owned contractor that offers painting and coating services for industrial and commercial projects throughout Northern and Central California. With over 30 years' experience, we are professional painting contractors capable of handling any medium to large sized projects—new construction, old refinishing building interiors and exteriors, ceilings, walls, floors, siding, coating metals, wood, masonry, and other different types of substrates.

We handle medium and large-sized industrial and commercial painting projects with work performed by experienced, fully-trained painters. As experienced industrial and commercial painting contractors, we understand the entire painting process thoroughly and know what it takes to complete a project properly, within budget, and on time. In addition, we also have a team of California Department of Public Health (CDPH) certified Lead-based paint workers and supervisors. CAL INC is a member of the Society for Protective Coatings (SSPC). SSPC's database of standards is the leading source of information on surface preparation, coating selection, coating application, environmental regulations, and health and safety issues that affect the protective coatings industry.
Services We Provide:


Industrial Painting Services

Pressure Washing
Water Repellants
Factories, plants, warehouses
Manufacturing & industrial facilities
Refineries, tanks silos
Metal walls, metal roofs
Piping systems, pumping stations
Water Treatment Plants
Water Proofing

Commercial Painting Services

Office & commercial buildings
Underground parking garages
Apartment & condominium buildings
Arenas &entertainment venues
Industrial Paint & Coating Materials
We utilize a wide array of high quality industrial-grade paints, coatings and materials, matched to the application and intended lifespan for maximum cost effectiveness in our projects. Our main objective is to provide you with the best value possible, by providing a range of coating system alternatives and the information you need to make an informed decision, including:
Multi- and single-part epoxies
Multi- and single-part urethanes & polyurethane
High end water borne acrylics
Direct-to-rust coatings
Protective coatings
Industrial coatings
Water based enamels
High Performance Coatings
Preparation for Industrial Paint Projects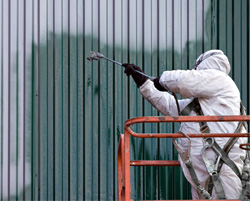 CAL INC is a proud member of the SSPC, and specializes in metal preparation, especially if the application has been painted or coated previously. Industrial and commercial paint jobs on Northern and Central California typically require a more thorough preparation before paint is applied, including sand blasting, power washing, steam cleaning, extensive wire brushing, high pressure hydro blasting, and chemical cleaning. In order for the new application of painting and coating to last long, the accumulation of rust, grime, grease, loose paint and coatings need to be removed and the surface cleaned spotlessly.
Planning and Executing a Successful Industrial Painting Project
You will be assigned a project manager with years of industrial and commercial painting experience in Northern and Central California. We have a formal project planning approach, and your project manager will work with you around your scheduled downtime, and work at nights to ensure the project is completed quickly, professionally and to your specifications. Our goal is to minimize disruption to your operations and ensure the safety of your population.

We are also aware of the importance of providing you a superior service at a fair price. We will do everything we can throughout the project to minimize the cost to you, while delivering the high quality results you expect.
Commercial Painting Projects
CAL INC has years of experience as a commercial painting contractor in Northern and Central California, successfully planning and executing medium and large sized commercial painting projects for property managers, homeowner and tenant associations for all of their commercial painting needs.

Our commercial painting services including projects for offices, apartments and condos, retail, restaurants, warehouses, houses of worship and other commercial structures throughout Central and Northern California. Our project managers will work with you to seamlessly plan your project and deliver it on time.
Commercial Painting Projects for Interiors & Furnishings
Our painters are experts at providing a superior interior paint job while protecting your assets and minimizing disruptions to your business. New wall paint, coverings, and finishes provide color harmony with other finishes and promote visual appeal to enhance your customer's experience. Freshening walls with a new color paint or wall treatment is an inexpensive way to reinvigorate and update your commercial work space.
Commercial Painting for Exteriors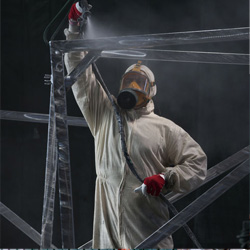 We are also experienced in a wide range of commercial exterior paint coatings and painting applications in Northern and Central California. The outward appearance of your property or business can make a big difference in customer and employee satisfaction. CAL-INC will work with you to visually enhance your business with a fresh coat of paint to ensure the perception of your property or business is crisp and professional.

Commercial and Real Property professionals trust CAL-INC to deliver the highest quality results for their commercial painting projects. We have a very thorough process including:

Preparation – If your building has been previously painted, our painters will thoroughly prep the area by first laying down material to catch the old paint and debris. Depending on the situation, our experienced commercial painters will use one or more of a variety of methods to remove the old paint or coating and prepare the surface to receive a top coat. We'll work with you to select the right paint type and color to improve the structure's integrity and work.

Paint – Once the property is prepared, and the paint selected, our experienced commercial painters will apply the coating quickly and at a time that minimizes the disruption to your customers and employees

Cleanup – We will leave your property cleaner than when we arrived. Your project manager will do a thorough site inspection with your team to ensure that everything is completed to your satisfaction and that all equipment and debris is completely removed offsite.
California's Best Industrial and Commercial Painting Contractor
CAL INC offers a comprehensive set of industrial and commercial painting services for a wide variety of applications throughout Northern and Central California. We are happy to visit your locations and do a comprehensive walk through so we can provide you with a no cost estimate of the painting services to meet your needs.

When you are ready to discuss painting and coating for your industrial or commercial project, call CAL INC at (800) 359-4467 for the highest quality service at competitive pricing!