For more information:
David Esparza
President/CEO
800.359.4467 (toll free)
707.446.7996 (tel)
707.446.4906 (fax)
desparza@cal-inc.com
David & Sandra Esparza
Owners of CAL INC
David Esparza and Sandra Esparza are the corporate president and vice president of CAL INC and have been since it's beginning in 1979. Mr. Esparza holds a Masters Degree from California State University, Sacramento in Social Science.
For the past 35 years, Mr. and Mrs. Esparza have led CAL INC's rise as one of the fastest growing full-service General Construction companies in California. Under their direction, CAL INC has also developed a full range of products and services including an abatement and remediation services division, an environmental services division, a building materials division, and an environmental training division. CAL INC now ranks as one of the leading environmental training organizations in California. Mr. Esparza has acted as the Training Director for all CAL INC training since 1979.
2004 Hispanic Business Magazine Top 500 Hispanic Owned Companies (#195)
2004 Hispanic Business Magazine Top 100 Fastest Growing Hispanic Owned Companies (Top 20, actual stranding not yet released))
Hispanic Business Salute Award, 2000 - CAL INC was selected as a top 500 Hispanic firms in the United States based on sales and growth patterns.
INC 500 Fastest Growing Company, 1998 (#304) - CAL INC was again selected as one the US fastest growing firms in America, based on the past five years of growth and sales.
Communities Served
Vacaville
Fairfield
Sacramento
Richmond
San Francisco
Vallejo
Woodland
Davis
Concord
Walnut Creek
Oakland
Yuba
Yolo
Fremont
Stockton
Modesto
Petaluma
Santa Rosa
Napa
Redding
Red Bluff
Eureka
Berkeley
Chico
Rio Vista
Antioch
Winters
Sebastapol
Novato
San Mateo
Palo Alto
Redwood City
Livermore
San Ramon
Dublin
Tracy
Calistoga
St. Helena
Marysville
Oroville
San Jose
Mountain View
Cupertino
Los Gatos
Sonoma
Solano
Sacramento
Contra Costa
Alameda
Yolo
Mendocino
San Joaquin
Marin
San Mateo
Santa Clara
Stanislaus
El Dorado
Placer
Sutter
Yuba
Butte
Glenn
Lake
Tehama
Shasta
Martinez
Antioch
Rio Vista
Pinole
San Pablo
Alameda
San Leandro
Hayward
Castro Valley
Union City
Milpitas
Sunnyvale
Santa Clara
Santa Cruz
Monterey
Burlingame
Rocklin
Roseville
Folsom
Rancho Cordova
Citrus Heights
Elk Grove
Galt
Lodi
Manteca
Tracy
Danville
Pleasanton
Merced
Fort Bragg
Colusa
Anderson
Red Bluff
Grass Valley
Nevada City
Auburn
Placerville
Paso Robles
Salinas
Lake Tahoe
Truckee
Reno
Carson City
Morgan Hill
Gilroy
About CALINC
Certified Small Business, SDB, MBE
General License No. 657754 (A, Asb, B, C-21, Haz)
Licensed by the State of California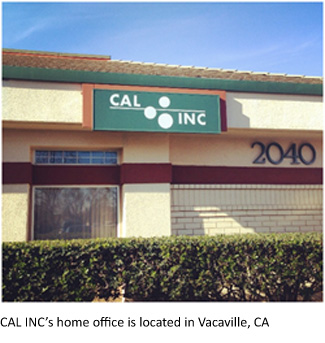 CAL INC is a General Contractor, licensed by the State of California (Lic#657754), providing general construction services, abatement and remediation services, environmental services and Environmental and Safety Training. Our main office is located in Vacaville, CA.
The company was founded in 1979 by David and Sandy Esparza who grew the company into an INC 500 Company (number 304) by 1998.
Our staff consists of top notch construction and abatement managers, civil, electrical and mechanical engineers, as well as registered asbestos and lead consultants. CAL INC has built a reputation for outstanding customer service by being responsive to our client's needs and accommodating to their requests. This factor, combined with our construction expertise, and our near flawless safety record, are all keys to CAL INC's success. Safety is the number one priority at CAL INC as demonstrated by our OSHA Recordable Incident Rate of 0.0 for 3 consecutive years, and as of Jan. 1, 2014 surpassed 250,000 hours without a lost time injury with an EMR of .83. CAL INC's goal each year is Zero incidents. Our safety process can be ranked among the most effective anywhere. We emphasize prevention and our safety performance statistics show that we are successful.
CAL INC is a PICS auditing member in good standing, with a "Green flag" status.
Our Mission Statement

"We strive to provide solutions that bring peace of mind. We will work to earn your trust and total satisfaction with each project. Our goal is to provide you with exactly what you expect and deserve. CAL INC is a company devoted to quality, the way it should be."
David Esparza
President/CEO


Environmental & Construction Services
Since 1979, we have been the leading provider of asbestos, lead, and mold abatement, remediation and removal services, hazardous materials cleanup and disposal, PCB/Transformer removal, stormwater consulting, demolition and general construction services in northern and central California.
We are committed to providing you a safe and healthy environment, in your home, office, commercial property, manufacturing plant, or government site. With environmental health issues on the rise, we promise to provide you with the highest quality, cost effective, comprehensive solutions so you can feel confident breathing the air around you, drinking the water, and leading a toxin-free life.
Our team is made up of the most highly trained and experienced professionals in the industry. And by using only state of the art tools and equipment in our projects and adhering to the highest level of safety standards, we ensure that each job is done properly, safely, quickly, and with minimal disruption to your business and environment.
We also provide a broad set of general construction services from simple (fencing, painting, framework, etc.) to complex structural repair and rehabilitation, as well as design-build services for residential, commercial, industrial, and governmental buildings of all types.
Our environmental and construction services include:


EPA, CDPH & OSHA Certification Training Courses
CALINC Training, LLC is the leading provider of EPA, CDPH, and OSHA training course and certification for northern and central California. We offer classes at our headquarters location, partner training centers, and at regional locations depending on demand for our classes.
CALINC Training offers state-of-the-art hazardous materials, environmental and safety training classes. Our students receive the best combination of classroom training and hands-on exercises and workshops. Attendees are able to practice so they can become familiar with the skills, tools, and procedures needed to handle environmental hazards and materials.
Our lead-based paint training courses are accredited by the Department Public Health. Our asbestos abatement classes and mold remediation classes are accredited by Cal/OSHA. Our hazardous material training, confined space training, and construction safety training all meet or exceed Environmental Protection Agency (EPA) and Occupational Safety and Health Administrative (OSHA) training requirements.
CAL-INC provides asbestos abatement and disposals services, lead paint abatement and removal, mold remediation, demolition, PCB/Transformer removal and disposal, stormwater consulting and BMP, general construction and remodel services across Northern and Central California, including the communities of Vacaville, Fairfield, Sacramento, Richmond, San Francisco, Vallejo, Woodland, Davis, Concord, Walnut Creek, Oakland, Fremont, Stockton, Modesto, Petaluma, Santa Rosa, Napa, Redding, Red Bluff, Eureka, Berkeley, Chico, Rio Vista, Antioch, Winters, Sebastapol, Novato, San Mateo, Palo Alto, Redwood City, Livermore, San Ramon, Dublin, Tracy, Calistoga, St. Helena, Marysville, Yuba City, Oroville, San Jose, Mountain View, Cupertino, Los Gatos, Sonoma, Martinez, Antioch, Rio Vista, Pinole, San Pablo, Alameda, San Leandro, Hayward, Castro Valley, Union City, Milpitas, Sunnyvale, Santa Clara, Santa Cruz, Monterey, Burlingame, Rocklin, Roseville, Folsom , Rancho Cordova, Citrus Heights, Elk Grove, Galt, Lodi, Manteca, Tracy, Danville, Pleasanton, Merced, and the counties of Solano, Sacramento, Contra Costa, Alameda, Yolo, Mendocino, San Joaquin, Marin, San Mateo, Santa Clara, Stanislaus, El Dorado, Placer, Sutter, Yuba, Butte, Glenn, Lake, Tehama, Fort Bragg, Colusa, Anderson, Red Bluff, Grass Valley, Nevada City, Auburn, Placerville, Paso Robles, Salinas, Lake Tahoe, Truckee, Reno, Carson City, Morgan Hill, and Gilroy.