For more information contact:
David Esparza
President
800.359.4467 (toll free)
707.446.4906 (fax)
desparza@cal-inc.com
Our Services Include
Asbestos Abatement
Lead-Based Paint Abatement
PCB Abatement/Removal
Environmental Surface Cleaning
Removal of Hazardous Interior Tank Coatings
Underground Storage Tank Removal & Replacement
Above-Ground Storage Tank Removal and Replacement
Soil Vapor Extraction Systems
Sewer and Pipeline Removal
Chemical Stabilization
Landfill Closure
On-site Treatment of VOCs
Transportation and Disposal of Hazardous Materials
Excavation/Remediation
Service Links
Communities Served
Vacaville
Fairfield
Sacramento
Richmond
San Francisco
Vallejo
Woodland
Davis
Concord
Walnut Creek
Oakland
Yuba
Yolo
Fremont
Stockton
Modesto
Petaluma
Santa Rosa
Napa
Redding
Red Bluff
Eureka
Berkeley
Chico
Rio Vista
Antioch
Winters
Sebastapol
Novato
San Mateo
Palo Alto
Redwood City
Livermore
San Ramon
Dublin
Tracy
Calistoga
St. Helena
Marysville
Oroville
San Jose
Mountain View
Cupertino
Los Gatos
Sonoma
Solano
Sacramento
Contra Costa
Alameda
Yolo
Mendocino
San Joaquin
Marin
San Mateo
Santa Clara
Stanislaus
El Dorado
Placer
Sutter
Yuba
Butte
Glenn
Lake
Tehama
Shasta
Martinez
Antioch
Rio Vista
Pinole
San Pablo
Alameda
San Leandro
Hayward
Castro Valley
Union City
Milpitas
Sunnyvale
Santa Clara
Santa Cruz
Monterey
Burlingame
Rocklin
Roseville
Folsom
Rancho Cordova
Citrus Heights
Elk Grove
Galt
Lodi
Manteca
Tracy
Danville
Pleasanton
Merced
Fort Bragg
Colusa
Anderson
Red Bluff
Grass Valley
Nevada City
Auburn
Placerville
Paso Robles
Salinas
Lake Tahoe
Truckee
Reno
Carson City
Morgan Hill
Gilroy
CAL INC is the leading provider of Abatement & Remediation Services in Central and Northern California. We have over 35 years experience dealing with Asbestos, Lead, and Mold, as well as many other toxic substances people are exposed to every day.
Abatement & Remediation Services
CAL INC is the leading provider of Abatement & Remediation Services in Central and Northern California. We have over 35years experience dealing with Asbestos, Lead, and Mold, as well as many other toxic substances people are exposed to every day.
CAL INC can handle any size remediation project. Our highly trained staff consists of the most technically-trained professionals in the business. No matter what size of job, CAL INC can successfully test and remove any material containing asbestos, lead paint, or mold. Our professionals receive up-to-date specialized training in their areas of expertise. CAL INC holds licensing in the state of California in General Engineering (A), General Construction (B), Asbestos (Asb) and Hazardous Materials (Haz).
We also provide a variety of other abatement services. Our abatement department can work with you to determine the best course of action that will fully satisfy your company's needs.
We possess the necessary administrative and project management systems to keep our environmental project on schedule, within budget, and moving towards closure. Please give us a call to receive a free estimate or to find out about any of our abatement services.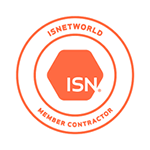 CAL INC has built a reputation for outstanding customer service by being responsive to our client's needs and accommodating to their requests. This factor, combined with our construction expertise, and our near flawless safety record, are all keys to CAL INC's success. Safety is the number one priority at CAL INC as demonstrated by our Experience Modification rate (EMR) of .83. CAL INC's goal each year is Zero incidents. Our safety process can be ranked among the most effective anywhere. We emphasize prevention and our safety performance statistics show that we are successful.
CAL INC is an ISNetworld member in good standing, with a "Grade B" status.
ISN streamlines processes, saving time and improving safety standards. ISNetworld helps to standardize contractor management across multiple sites and geographic regions, clearly communicate requirements and expectations and exchange data with other internal systems. The result is lower incident rates and higher compliance numbers.
Our ISNetworld member number is 400-231976. If you have any questions relating to safety, please contact our Safety Manager at (707) 446-7996.
Asbestos, Lead, & Mold
People's health is at risk today due to a number of dangerous substances that are in the ground, water, air, in our homes and place of business. This includes:
Asbestos
In over 3,000 products and naturally occurring in the environment, we are in contact with Asbestos every day. Continued exposure can cause serious lung diseases, so every effort should be made to remove the risk of exposure to Asbestos whenever possible. Click here to learn more about our Asbestos Abatement & Removal Services.
Lead
Long recognized as a harmful pollutant and the #1 environmental threat to children in the U.S. People are exposed via contaminated air, water, soil, food, and consumer products. One of the largest threats to children is lead paint that exists older homes. Click here to learn more about our Lead Paint Abatement & Removal Services.
Mold
Considered the "new" asbestos due to its pervasiveness in buildings and it's toxic side effects. By far the most common health impact is to the 10% of the U.S population allergic to mold spores. However mold can produce a wide variety of far more serious illnesses from asthma to altered immune functions, making it essential to remove wherever people may come in contact to it. Click here to learn more about our Mold Remediation & Removal.
CAL-INC provides Asbestos abatement and disposals services, lead paint abatement and removal, mold remediation, demolition, PCB/Transformer removal and disposal, stormwater consulting and BMP, general construction and remodel services across Northern and Central California, including the communities of Vacaville, Fairfield, Sacramento, Richmond, San Francisco, Vallejo, Woodland, Davis, Concord, Walnut Creek, Oakland, Fremont, Stockton, Modesto, Petaluma, Santa Rosa, Napa, Redding, Red Bluff, Eureka, Berkeley, Chico, Rio Vista, Antioch, Winters, Sebastapol, Novato, San Mateo, Palo Alto, Redwood City, Livermore, San Ramon, Dublin, Tracy, Calistoga, St. Helena, Marysville, Yuba City, Oroville, San Jose, Mountain View, Cupertino, Los Gatos, Sonoma, Martinez, Antioch, Rio Vista, Pinole, San Pablo, Alameda, San Leandro, Hayward, Castro Valley, Union City, Milpitas, Sunnyvale, Santa Clara, Santa Cruz, Monterey, Burlingame, Rocklin, Roseville, Folsom , Rancho Cordova, Citrus Heights, Elk Grove, Galt, Lodi, Manteca, Tracy, Danville, Pleasanton, Merced, and the counties of Solano, Sacramento, Contra Costa, Alameda, Yolo, Mendocino, San Joaquin, Marin, San Mateo, Santa Clara, Stanislaus, El Dorado, Placer, Sutter, Yuba, Butte, Glenn, Lake, Tehama, and Shasta.